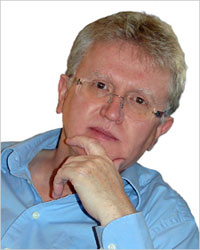 Owen James, PhD., R.Psych #1070
Treatment for:
Assessment:
Medico-Legal Assessment
Forensic Assessment

Treatment Preferences:
Orientation:
Cognitive Behavioral (CBT)
Psychological Testing
and Evaluation
Dr. Owen James


I'm father of four boys, husband, Welsh, psychologist, Dr 'O' to many of my clients and founder of Tri-City Psychology Services.
Analyze this…
Whenever I introduce myself at to someone new socially, often the first question I get asked is, "what is it that you do for a living?" "I'm a psychologist" can be a real conversation stopper! Often bringing a response such as "I better be careful what I say… I don't want you thinking I'm crazy do I?"
It seems everyone has their own idea of what goes on inside a therapists office, conjured up from TV programs such as "Dr. Phil" or movies such as "Analyze That" or "Shrink", where the psychologists are portrayed as unhappy individuals who love to give advice to their clients but are unable to follow it themselves. Who'd want to see someone like that? Therapy with me doesn't look like either of these scenarios.
What can I expect in my first session?
Our first meeting will focus on your needs; what brought you in to counseling. You will have time to tell me about your current concerns and the changes you would like to see. We will work together to determine goals for future sessions.
I have been a therapist for over twenty years now, talking to strangers, listening and supporting them through the steps of getting their life back together. Each person is different, some situations tragic, others not so much. The more I have chosen to work with the people that I really enjoy working with, the more this has enabled me do my best work. My mission is to help people live better lives. It is extremely rewarding to work with someone and to see them making progress and becoming happier.
Who are you, and who do I help?
I help people who have depression or anxiety. People do not generally come in to therapy when things are going well. You may be 17 or 75 but the thing you have in common is that you feel helpless, hopeless.
It may be as a result of a motor vehicle accident, a health issue, death, a spouse infidelity or a teenagers' drug abuse. Every story is different
How do you help?
If you are depressed, you may feel that nothing can help. So what possible difference can I make?
I am no spin doctor, I don't wear a white coat. I'm not going to ask you to lie on a couch or to get in touch with your inner child. We will talk, I'm a good listener. We'll have conversations about your fears, your family, what it feels like in the depths of your despair, what your life would be like if you weren't depressed, when you feel most vulnerable. My role is to help you to see yourself and your situation in a different light, and from a different perspective.
Gradually I will help you to replace the negative thoughts and assumptions that brought you to see me. ( I use evidence based treatments such as  solution focused and cognitive behaviour therapy ).
I believe that in the main people are creative and resourceful, and with the right support and the right tools they are able to manage great difficulties in their lives.
I will support you with the changes that you need to make … and slowly therapy will work its magic.
.. there is something you must always remember. You are braver than you believe, stronger than you seem, and smarter than you think.
…….Winnie the Pooh
Some personal stuff
I love my work but if I had to choose my next life I would come back as Jeremy Clarkson, there's nothing I enjoy more than zipping along the sea to sky highway in my sports car. This contrasts sharply with my love of the simple peaceful pleasure of fishing and camping with friends in Northern Saskatchewan. Oh… and there's a standing joke in my family that I'm an 'Imelda Marcos wannabee'… this is one doc who loves his shoes 🙂