Psychobabble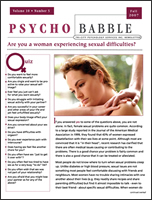 In 1998 when our company Tri-City Psychology Services was established we quickly discovered that people in our community didn't have much of a clue about what psychologists did! For this reason we decided to produce a newsletter  to unravel this mystery, and we it called Psychobabble!
Psychobabble is produced 6-8 times a year and features psychology articles of educational and general interest.
Some of these articles are written by Tri-City Psychology Services psychologists , many of the articles are written by leading authors, academics and professionals in the fields of health and psychology.
Now you can have Psychobabble delivered free by email click here to subscribe
Enjoying the Holidays with Elderly or Aging Family Members
Warning signs of Alzheimer's may be more evident during the holidays
Searching for Happiness
The Importance of Meaning in Our Reactions
The Hijacked Brain of the Diabetic
Top 10 keys to Happiness in Mid-Life
Breakup:Enduring divorce
Are you emotionally exhausted after the holidays?
Please remember the elderly who may be home alone this Christmas
When your teen is depressed: Recognising the signs
Beyond Diagnosis : Reclaiming a sense of wellbeing and confidence after or during a health challenge