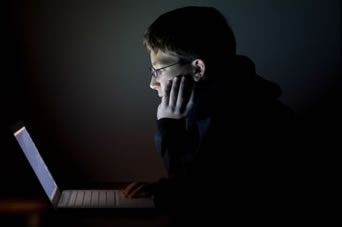 Belief that "sticks and stones may break my bones, but names can never hurt me," has gone by the wayside in the 21st century. With the advent of text messaging, online chat groups and social media sites such as MySpace, Facebook and YouTube, adolescent pranks can be elevated to hysteria and cruel remarks "blasted" to millions in mere seconds. Recently, a text message and MySpace bulletin warned California students that a shooting rampage would take place the next day on campus. The threat went "viral" as friends warned each other via text messages and email, resulting in two-thirds of the student body staying home from school the next day. Although the message was later determined to be a hoax, the fear and consequences were real.
As the trend to use social media sites such as MySpace, FaceBook, YouTube, increases among adolescents, parents are advised to educate themselves on how to help their teens handle the consequences of "cyber-bullying" – which can affect their teen's self-esteem much more seriously than parents think.
WHO: Alliant International University expert in adolescent mental health, Yoko Kay Tanaka, PhD, is available to speak on the Effects of online social networking sites on adolescents. Dr. Tanaka is an Associate Director, Masters in Clinical Psychology, Japan, California School of Professional Psychology (CSPP) at Alliant International University. She specializes in psychotherapy and assessment issues of children and adolescents, divorce and children, and ADHD. Alliant International University is headquartered in San Diego and San Francisco, works with the media to provide timely and accurate information on a variety of psychological issues to increase the understanding of human behavior.
WHAT: Dr. Tanaka can speak on how today's adolescents are using the internet as their new social ground and how that affects their mental health when these tools are misused to spread rumors, ridicule or fear. Parents should know that the online world really is their adolescents' social environment and that more than half of all teens between ages 12-17 use social networking sites. About one third of teens have experienced what can be considered "cyber-bullying" online – receiving threatening messages; having their private emails or text messages forwarded without knowing; having an embarrassing picture posted without permission; or having rumors spread online. Dr. Tanaka can discuss why:
social media interactions with peers have a strong positive or negative impact on a teen's self-esteem
it is important for parents to set their own rules and guidelines on their child's internet use
it is important to talk to other parents before setting up ground rules
parents should educate themselves about the new technology, and where they can learn about the "Online Code-of-Conduct Contract."
WHEN: Interviews with Dr. Kay Tanaka are available via phone on Thursday, April 3 or in person on Saturday, April 5 between 12 noon to 4 pm PST by arrangement during the California Psychology Association's (CPA) 2008 Convention (April 3-6, 2008).
WHERE: Disneyland Hotel, 1150 Magic Way, Anaheim, California.
Source: Alliant International University via Newswise